All the mouthwatering recipes in our series "The Main Ingredient" have one thing in common: They all contain cookies. We used fresh raspberries and Cheryl's cut-out cookies to make these divine chocolate raspberry cookie bombs.
Just a dash of glitz and glamour can brighten the entire room … and your whole day!
So, the next time you're hosting a lavish dinner at home, bring some razzle-dazzle to your soiree by showering your dessert with sparkles. To help you find the perfect recipe for your party, we gave our buttercream truffles a scintillating makeover with fresh 'n' fancy raspberries and Cheryl's delectable cutout cookies. Here's how to make a delicious treat that really shines!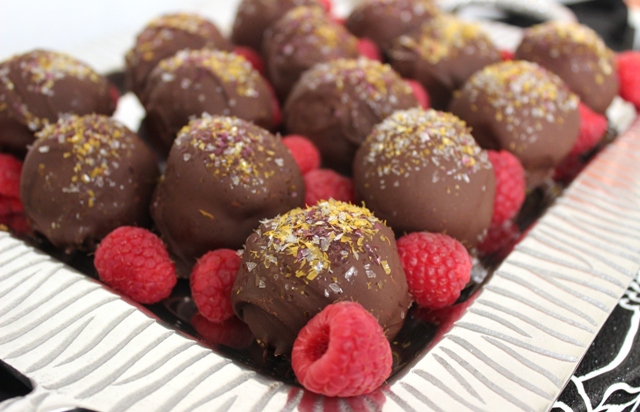 What you'll need
Directions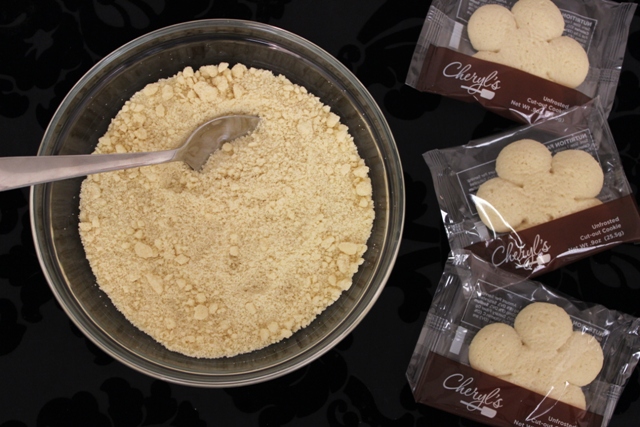 First, mix the cutout cookies in a blender until they've turned into fine crumbs. If you don't have a blender, the cookies are so soft that you can simply seal them in a big sandwich bag and crush them by hand! Twelve cookies will yield about 3 cups of cookie crumbs. We split the crumbs into two 1 ½-cup batches so we could make two different-flavored truffles.

In a large mixing bowl, blend the cookie crumbs and two tubs of room-temperature buttercream frosting in any flavor of your choice. Since we split the cookie crumbs into two equal-sized bowls, we used one tub of fudge buttercream frosting in one bowl and one tub of vanilla buttercream frosting in the other. Stir until the crumbs and frosting are well combined. Cool the mixture in the freezer for 30 minutes.

Once the cookie-frosting combo is nice and chilly, take it out of the fridge. Take 1 tablespoon of the mixture and roll it into a ball, and then flatten it out into a disk with your palms. Wrap the cookie-buttercream disk all the way around a raspberry and roll it into a ball again. Repeat this step until you've used up all your cookie-buttercream mix. Two tubs of frosting will yield about 30 truffles. Chill the truffles in the freezer for another 30 minutes.

Pour 24 ounces of semisweet chocolate chips into a bowl and melt them in the microwave for 2 minutes, making sure to stop and stir the chocolate every 30 seconds. Once the chocolate is completely melted and smooth, take the truffles out of the refrigerator and use a fork to individually dip them into the chocolate. Set them on a cookie sheet lined with wax paper, and then sprinkle them with any kind of sparkly topping you like before the chocolate cools. Pop them in the freezer one last time for 30 minutes or until the chocolate hardens.
For an elegant presentation that'll make your truffles look even more radiant, serve them on a shimmery cake platter alongside some champagne or sparkling juice. Don't forget to drop a couple of raspberries into each champagne glass; they'll look like brilliant little jewels for your drinks!