Get an inside look at how Cheryl's develops new flavors, products, and gifting options in the series "From the Kitchen." From chocolate to gingerbread, these new types of Christmas cookies from Cheryl's Cookies are the perfect gift for everyone on your list.
It's the most wonderful time of year — that's right, the time when the new Cheryl's Cookies holiday treats arrive.
A lot of baking imagination and ingenuity goes into developing each holiday cookie variety in the Cheryl's test kitchen. It's kind of like Santa's workshop, only better: They make cookies and treats there rather than toys. "We put a lot of creativity into the holiday season because that's when people want to send smiles the most," says Brenda Mortensen, director of product development for Cheryl's Cookies.
Get inspired for the season with this tasty tour of all the merry goodness that awaits you this winter.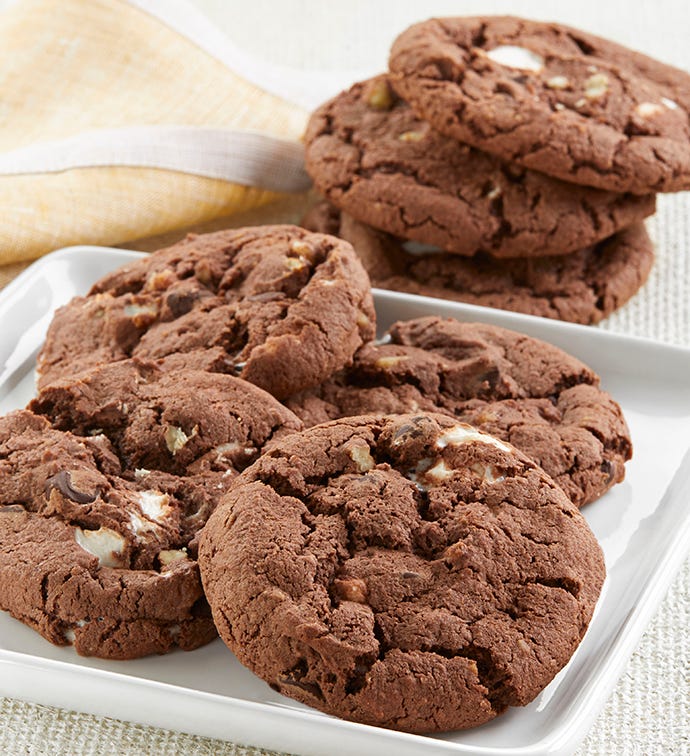 Decadent Rocky Road Pecan
Mortensen leads the team that is responsible for coming up with new flavors for the company, and the cookie she is most excited about this holiday season is the Rocky Road Pecan cookie. It's a rich chocolate cookie loaded with marshmallow and pecans — like a rocky road sundae, only in cookie form.
The inclusion of pecans is a welcome treat during the holiday season, when we all seem to crave more nutty desserts. The star here, though, is the marshmallow, which has a unique quality to it: Kosher and vegan, it stays chewy even after it's been baked. "It's very yummy," Mortensen raves. "And this marshmallow is amazing. When you bite into it, it's very satisfying."
New ways to gingerbread
As much a part of Christmas as sleigh bells and reindeer, gingerbread is one of the most beloved scents and flavors of the holiday season. This year, Cheryl's is introducing two new exciting ways to enjoy this classic treat: the Buttercream Frosted Gingerbread Man Cookie and the Buttercream Frosted Gingerbread Bar.
The former starts with Cheryl's fan-favorite gingerbread cookie recipe. Then, to give it more cuteness, color, and sweetness, it is finished with a little chocolate gingerbread boy on top. "Everyone gets the gingerbread cookie that they love, but it's gotten a fresh look this year," Mortensen says.
With cuteness covered, it's on to elegance. Sprinkled with crystallized ginger, the gingerbread bar is a more decadent interpretation of classic gingerbread, filled with ingredients such as brown sugar, vanilla, molasses, cinnamon, and cloves. "You want those warm spices when it's cold outside," Mortensen says. "This takes you right into the holiday spirit when you eat it."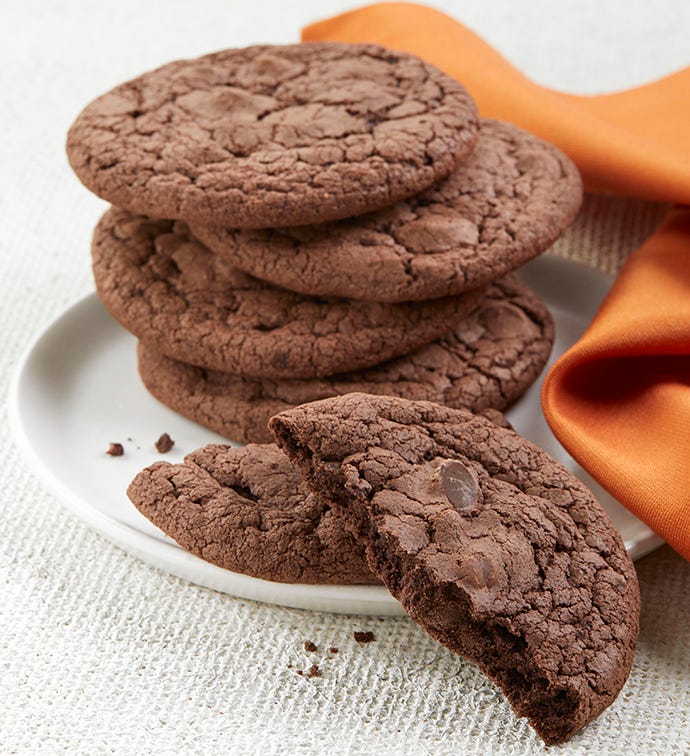 Chocolate Obsession
Another new way to cure those holiday chocolate cravings is the oh-so-chocolatey Chocolate Obsession Cookie. "We loaded it with chocolate. Each cookie is 36% chocolate. However we could fit more chocolate in, we did," Mortensen explains. The cookie is so rich, Mortensen says, that it feels more like a cross between a brownie and a cookie. "When you bite into it, it's really soft and decadent," she says.
Polar bear print cookies
Take a look at this year's Buttercream Cut-Out Cookie with Confection Disk, and you'll see the most adorable holiday polar bear all decked out in his blue and white winter hat and scarf. Not only does each polar bear print match several of Cheryl's gift packaging designs, but each bear adds a delicious chocolatey touch to the classic cut-out cookie. "The chocolate is really amazing with our buttercream," Mortensen says. "The chocolate piece just enhances the buttercream; it goes so well with our frosting."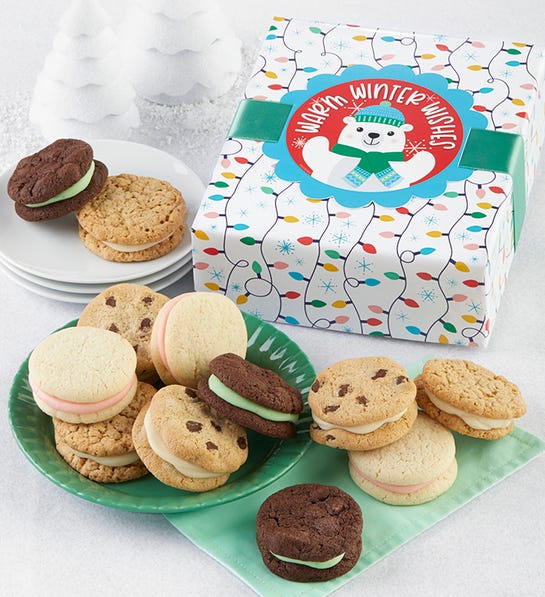 Let it snow with sandwich cookies
What's better than one cookie? Two! Cheryl's is bringing back the popular sandwich cookie with a new group of tempting flavors.
There's a chocolate mint variety, which features double chocolate cookies surrounding green mint frosting. The oatmeal whoopie pie has oatmeal cookies sandwiched between a layer of vanilla frosting. For a more classic take, try the chocolate chip sandwich cookie, which comes with vanilla frosting, or the sugar sandwich cookie, which pairs sugar cookies with strawberry frosting. No matter which one you choose, they're the perfect gift for the person who prefers a double helping of cookies in their holiday treats. Just remember the glass of milk for dunking.
Bring holiday happiness with DIY cookie kits
Also new this year are lots of ways to encourage fun family time with dessert kits that even the youngest little baker will enjoy. Mortensen's favorite is the new DIY S'mores Kit. "It has snowflake-shaped marshmallows and comes with cookies and round chocolate disks exactly the same size as our cookies," she says. "Put it all together in the microwave, and you have this warmed yummy treat. Everything is there for you."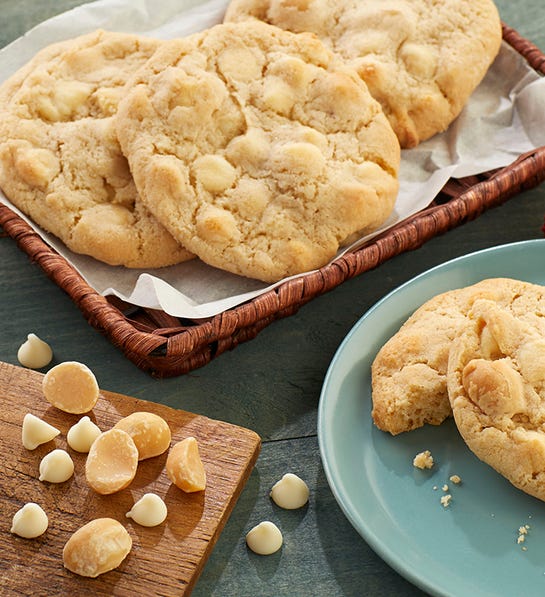 Throwback favorite
In honor of Cheryl's 40th anniversary, the product team has been bringing back popular flavors from throughout the years. This season, the team welcomes back the favorite Macadamia White Chocolate, which holds special meaning for Mortensen. "When I was still in high school, I used to work at a market where they had a Cheryl's store, and that was my all-time favorite at the time," Mortensen says. "They served the warm cookies with ice cream, and that was always my go-to." Try this preparation at home, and you, too, will be transported to your happy place.
Holiday traditions, annual favorites
Some holiday favorites never go away, so you'll still see the same cast of cookie characters you always have, including reindeer, snowmen, Santa's belt, and Christmas trees. The same goes for old standbys like the Frosted Peppermint Chocolate cookie and Frosted Mint Chocolate cookie.
With so many tempting flavors, it's a good thing Cheryl's offers a plethora of gift options. That way, it's easy to sample all the new and classic cookie varieties that make the holiday season oh-so special.