Cheryl's Celebration Cookie Gift Box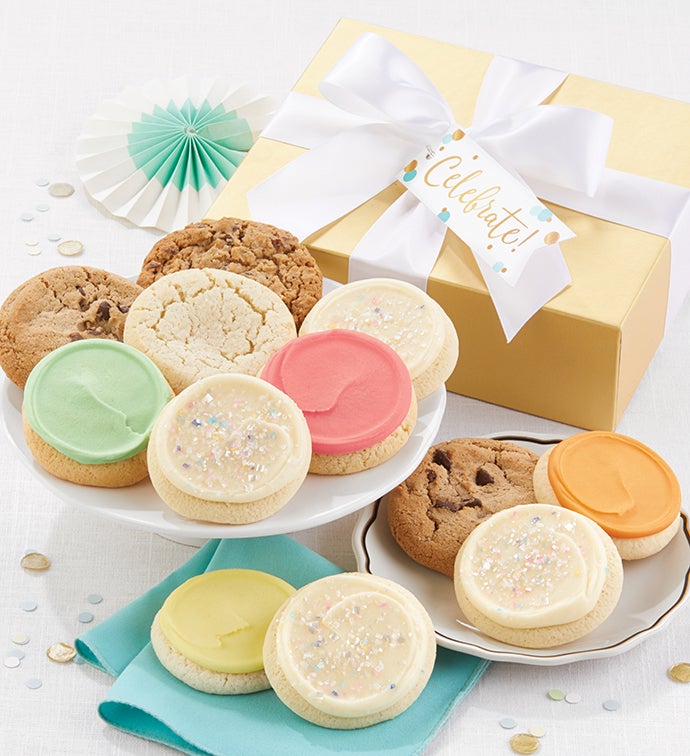 CHERYL'S CELEBRATION COOKIE GIFT BOX - 12
12 Cookie Box Includes:
4 Buttercream Frosted Celebration Cut-Out Cookies
2 Classic Chocolate Chip Cookies
1 Buttercream Frosted Strawberry Sugar Cookie
1 Buttercream Frosted Key Lime White Chocolate Cookie
1 Buttercream Frosted Lemon Burst Cookie
1 Buttercream Frosted Orange Citrus Cookie
1 Oatmeal Raisin Cookie
1 Sugar Cookie
Box- 8 ¼ X 6 7/8 X 2 ½
It's a real party when our celebration gift arrives! This festive box includes a delicious cookie assortment featuring our new buttercream frosted vanilla cut-out cookies topped with our iridescent sprinkles. We've also included a delicious assortment of 7 other flavors including buttercream frosted strawberry sugar, key lime white chocolate chip, and lemon burst.