Flavor of the Month Cookie Club - Pay-as-you-go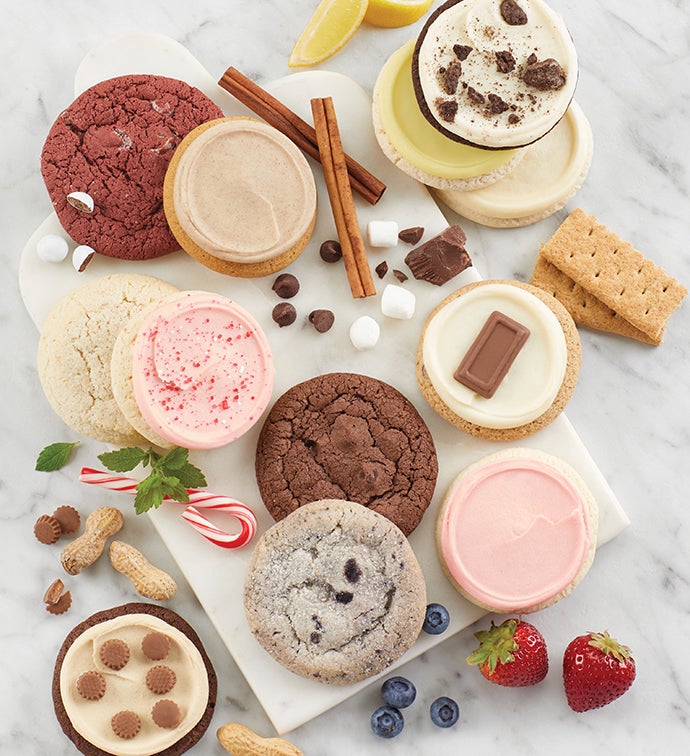 FLAVOR OF THE MONTH COOKIE CLUB - PAY-AS-YOU-GO
January - 12 Cookies-n-Cream Cookies
February - 12 Red Velvet Cookies
March - 12 Frosted Peanut Butter Cookies
April - 12 Frosted Lemon Burst Cookies
May - 12 Sugar Cookies
June - 12 Frosted Strawberry Cookies
July - 12 Blueberry Cookies
August - 12 Buttercream Vanilla Cut-out Cookies
September - 12 Frosted Smore Cookies
October - 12 Frosted Cinnamon Pumpkin Cookies
November - 12 Chocolate Obsession Cookies
December - 12 Frosted Candy Cane Cookies
SAVE OVER TO 30% WHEN YOU JOIN THIS CLUB!

Enjoy a different cookie flavor delivered right to your door, every month! Our Flavor of the Month Club includes delicious flavors like Lemon Burst, Orange Citrus and Pumpkin Cinnamon to name a few. Each delivery includes 12 individually wrapped cookies. Deliveries ship the first week of every month. OU-D.

The payment method used for your first order will be charged for all future deliveries. Paypal, Chase Pay and Apple Pay are not available as a payment method on pay-as-you-go clubs. Shipping and handling charges are additional. This special offer cannot be combined with Promotion Codes or Reward Cards.
January - 12 Cookies-n-Cream Cookies
February - 12 Red Velvet Cookies
March - 12 Frosted Peanut Butter Cookies
April - 12 Frosted Lemon Burst Cookies
May - 12 Sugar Cookies
June - 12 Frosted Strawberry Cookies
July - 12 Blueberry Cookies
August - 12 Buttercream Vanilla Cut-out Cookies
September - 12 Frosted Smore Cookies
October - 12 Frosted Cinnamon Pumpkin Cookies
November - 12 Chocolate Obsession Cookies
December - 12 Frosted Candy Cane Cookies