Buttercream Frosted Cut-out Cookie of the Month Club - Pay-as-you-go - 24 cookies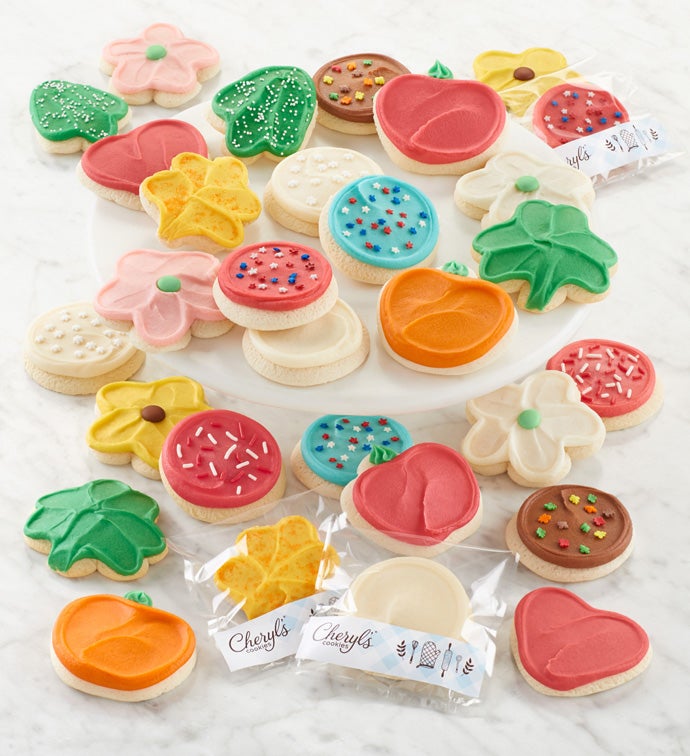 12 Month Club Includes:
January - 24 Buttercream Frosted Snowflake Cut-out Cookies
February - 24 Buttercream Frosted Heart Cut-out Cookies
March - 24 Buttercream Frosted Shamrock Cut-out Cookies
April - 24 Buttercream Frosted White Flower Cut-out Cookies
May - 24 Buttercream Pink & Yellow Flower Cut-out Cookies
June - 24 Buttercream Patriotic Cut-out Cookies
July - 24 Buttercream White Round Cut-out Cookies
August - 24 Buttercream Frosted Apple Cut-out Cookies
September - 24 Buttercream Sunflower Cut-out Cookies
October - 24 Buttercream Pumpkin Cut-out Cookies
November - 24 Buttercream Leaf Cut-out Cookies
December - 24 Buttercream Holiday Cut-out Cookies
SAVE UP TO 40% WHEN YOU JOIN THIS CLUB!

Don't let the cookie jar go empty! Instead have a box of our unparalleled buttercream frosted cut-out cookies delivered right to your (or one of your favorite people's) door 6 to 12 times a year. Our 6 month club includes deliveries in – February, April, June, August, October and December. Each delivery includes 24 individually wrapped cookies baked and decorated especially for the season. Deliveries ship the first week of every month. OU-D.

The payment method used for your first order will be charged for all future deliveries. Paypal, Chase Pay and Apple Pay are not available as a payment method on pay-as-you-go clubs. Shipping and handling charges are additional. This special offer cannot be combined with Promotion Codes or Reward Cards.