Smile Farms Crowd Pleaser Bow Gift Box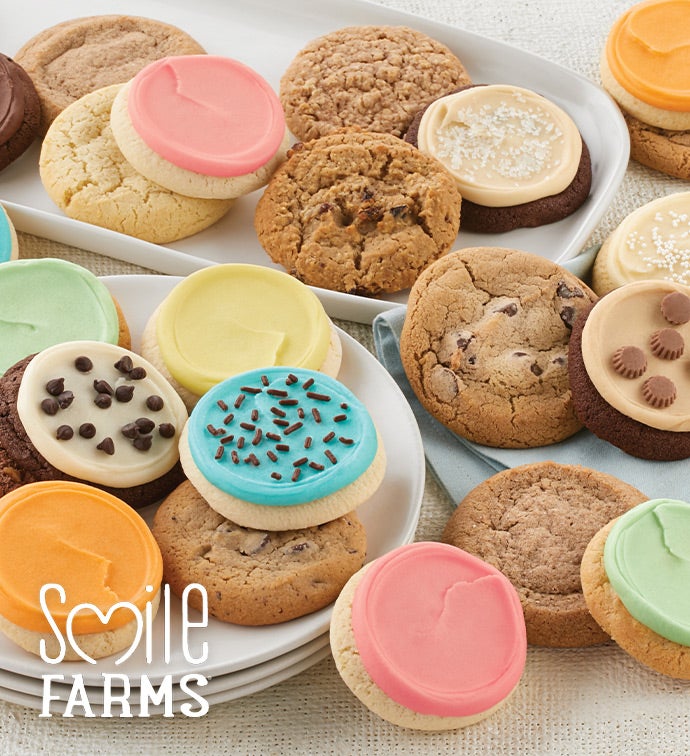 SMILE FARMS CROWD PLEASER BOW GIFT BOX - 24
24 Cookies Includes:
4 Buttercream Frosted Strawberry Cookies
2 Chocolate Chip Cookie
2 Oatmeal Raisin Cookie
2 Sugar Cookie
2 Fudge Buttercream Frosted Chocolate Chocolate Cookie
2 Buttercream Frosted Chocolate Cookie
2 Buttercream Frosted Cut-out Cookie with Chocolate Sprinkles
2 Buttercream Frosted Lemon Burst Cookie
2 Buttercream Frosted Orange Citrus Cookie
2 Snickerdoodle Cookie
2 Sugar Free Cinnamon Oatmeal Cookie
Box- 9 ½ X 5 ½ X 4
Individually Wrapped Cookies - perfect for sharing!
This delicious assortment includes 12 different popular flavors all individually wrapped and delivered in our classic bow boxes – the perfect choice for a group, snacks for your own family or a sweet surprise for a client. We've included classic flavors like chocolate chip, sugar, oatmeal raisin, snickerdoodle and buttercream frosted flavors like orange citrus, lemon burst, strawberry sugar and triple chocolate to name a few. Stock up! Our cookies freeze great! OU-D. 24 cookies
This item is part of the Smile Farms Collection! When you purchase a gift from this collection, we will donate 20% of the net proceeds* to Smile Farms, our signature philanthropic partner. The mission of Smile Farms is to create meaningful work opportunities for people with disabilities in agriculture and hospitality. When Smile Farmers are trained in gardens and restaurants, they develop valuable transferable skills. Their work generates purpose and pride, enhances life skills, and fosters socialization. Smile Farmers are truly enriched by their work, and the benefits they obtain make all the difference in their quality of life. Unfortunately, adults with disabilities face higher levels of unemployment and are significantly more likely to be left out of the labor force entirely than those without. Together, we are shaping a better future where people with special needs are valued for the real contributions they make in their workplaces and communities.

* "Net proceeds" is defined as the gross sales price of the product less any and all taxes, service charges, shipping and handling charges, discounts, gift certificates, promotional gift certificates, promotional offers (e.g. airline miles, points, e-money, etc.) credits, rebates, chargebacks, refunds, credit card processing fees and gift certificate cancellations. © 2023 Smile Farms Inc. is a 501(c)(3) nonprofit, EIN: 46-5360466.

24 Cookies Includes:
4 Buttercream Frosted Strawberry Cookies
2 Chocolate Chip Cookie
2 Oatmeal Raisin Cookie
2 Sugar Cookie
2 Fudge Buttercream Frosted Chocolate Chocolate Cookie
2 Buttercream Frosted Chocolate Cookie
2 Buttercream Frosted Cut-out Cookie with Chocolate Sprinkles
2 Buttercream Frosted Lemon Burst Cookie
2 Buttercream Frosted Orange Citrus Cookie
2 Snickerdoodle Cookie
2 Sugar Free Cinnamon Oatmeal Cookie
Box- 9 ½ X 5 ½ X 4