Special Value Mystery Flavors Cookie Box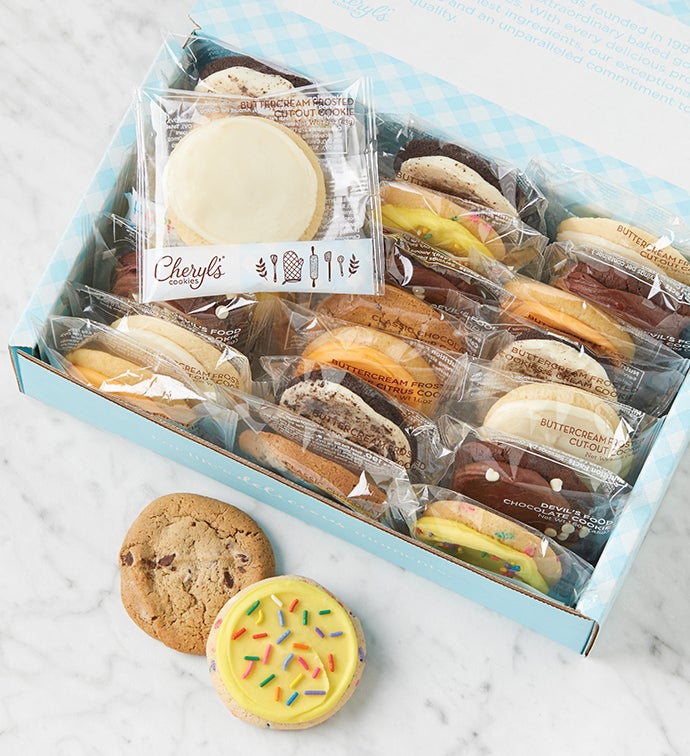 24 Assorted Cookies Includes:
Flavors will vary by box and may include seasonal cutout cookies from past seasons.
Box - 12 1/2" x 7" x 3 5/8"
SPECIAL VALUE!
Our Mystery Flavors Cookie Box is regularly priced at $44.99. Now $29.99 with FREE GROUND SHIPPING!
Find a new favorite with our Mystery Flavors Cookie Box filled with a surprise variety of fantastic flavors and fun shapes. You might find classics like old-fashioned sugar or chocolate chip cookies, or there might be signature buttercream-frosted cutout cookies to enjoy. Our cutout cookies are an especially fun treat to share during the holidays, and your box may include a festive shape from a past season. All our incredible cookies come individually wrapped, so they stay fresh and tasty. What delicious delights lie in your future?
This special offer cannot be combined with Promotion Codes or Reward Cards.
24 Assorted Cookies Includes:
Flavors will vary by box and may include seasonal cutout cookies from past seasons.
Box - 12 1/2" x 7" x 3 5/8"