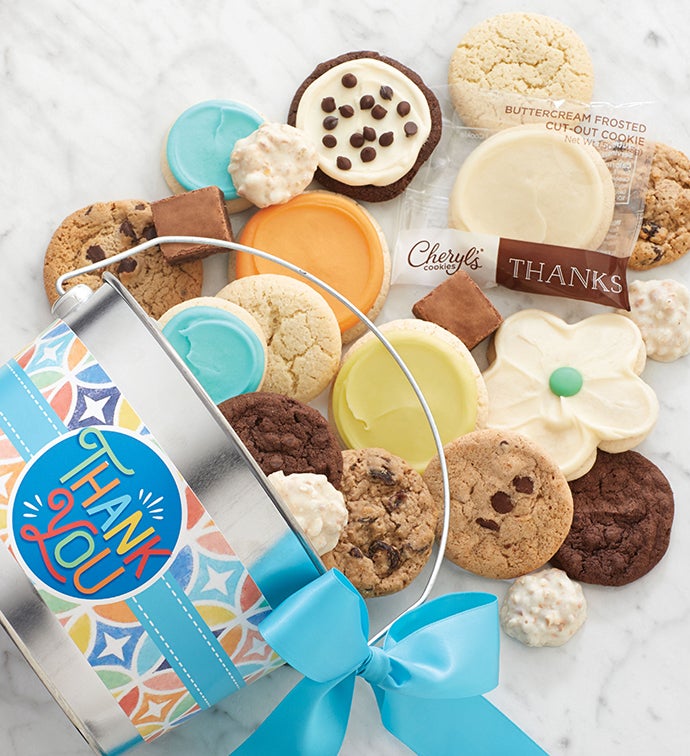 4 Confection Pretzel Clusters
2 Snack Size Chocolate Chip Cookies
2 Snack Size Chocolate Obsession Cookies
2 Snack Size Oatmeal Raisin Cookies
2 Snack Size Sugar Cookies
2 Snack Size Fudge Brownies
2 Snack Size Buttercream Frosted Cut-Out Cookies
2 Buttercream Frosted Cutout Cookies
1 Buttercream Frosted Orange Citrus Cookie
1 Buttercream Frosted Lemon Burst Cookie
1 Buttercream Frosted Chocolate Chocolate Cookie
Pail - 7 X 5
NEW! Send a sweet treat to say thanks with our shiny silver pail overflowing with Cheryl's goodies. We've included individually wrapped snack size cookies and brownies, assorted buttercream frosted cookies, a thank you wrapped frosted vanilla cut-out cookie, and sweet and salty pretzel clusters. OU D. 21 pieces.
4 Confection Pretzel Clusters
2 Snack Size Chocolate Chip Cookies
2 Snack Size Chocolate Obsession Cookies
2 Snack Size Oatmeal Raisin Cookies
2 Snack Size Sugar Cookies
2 Snack Size Fudge Brownies
2 Snack Size Buttercream Frosted Cut-Out Cookies
2 Buttercream Frosted Cutout Cookies
1 Buttercream Frosted Orange Citrus Cookie
1 Buttercream Frosted Lemon Burst Cookie
1 Buttercream Frosted Chocolate Chocolate Cookie
Pail - 7 X 5